Home of - Delphine Smith
Supplies delivered in time for the Holidays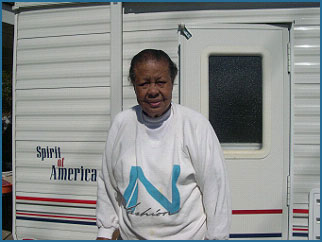 Delphine Smith - age 78
265 Bohn Street
Biloxi, Mississippi
I am a 78 years old widow. I have diabetes, glaucoma, tendonitis and arthritis. I attend 'Our Lady of Sorrow' Catholic Church. I have four children, one of which died in military service.

Here is a list of things that need to be done to her house.
Remove and replace 5 feet of sheetrock throughout.
25% of electrical replaced.
Floor removed and replaced with laminate flooring and linoleum in kitchen, carpet in bedroom.
New condenser unit for air conditioner.
Remove 2 interior walls, change out studs and rewire.
Kitchen - Refrigerator, stove, dishwasher, countertops and cabinets replaced.
Paneling removed and replaced.
Minimal foundation work.
All areas painted.
Install trim work.
New vanity and bathroom shower fiberglass unit.
Total sq. footage 900 square feet $11,000 needed.