Home of - Deborah and George Parks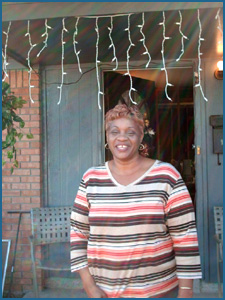 Deborah & George Parks

124 Hannibal Court
Biloxi, Mississippi
Deborah and George are very community oriented. They have fighting spirits but the destruction is getting them down. The mold has been removed from their home and it keeps returning. Deborah is beginning to suffer medically because of it. Deborah has lost her mother and one brother recently, and now her home. They have lived here for 28 years. George works for Bell South and is trying to work at work and come home to work as well. However they are stretched, they also spend a lot if time helping neighbors in the community on their homes.
They will be getting a trailer soon. They have nowhere else to live (home for 28 years) and are attempting to help themselves. The Father in law and cousins are helping. Insurance did not cover much. Insurance paid $12 or 15,000 have $5000 left. The got a new roof, heating unit, washer and dryer. The have ordered and paid for cabinets.
Home for them is a comfortable place and a place to bring others. George works for self and Bell South. He had to sleep at work. They are hard workers and community oriented. Debbie has been affected by the mold in the home. Her brother is dying of cancer and her mother died in February. Her brother was murdered in June.

Here is a list of things that need to be done:
Washed down but mold kept coming back, put up sheet to hide Need 2 rooms and bedroom ripped out
Using curtain for walls
Walls mostly gutted
All appliances gone